This post contains affiliate links and I may be compensated if you make a purchase after clicking on my links. Also, as an Amazon Associate, I earn from qualifying purchases through them as well.
The 5th Annual Build Your Bundle Sale is back, but only for a few days! You'll find some amazing resources, including the following:
20 individual bundles that include homeschooling (by grade levels/themes), homemaking, parenting, Charlotte Mason, and more
Over 250 products & 128 authors/publishers
Bigger bundles and lower prices
Buy 2 and get 1 FREE (individual bundles and Build Your OWN Bundles – see site for details)
Bundles priced 86%-95% off
17 courses/memberships priced 50%-70% off retail (high school science, homeschool conventions/conferences, music courses, full curriculum, and more!)
You only have two days to save – the sale ends 7/18/18!
In Humble family news this week, we finally (finally!) got B a bike. So instead of him and C turning our back patio into the thunderdome to see who gets the tricycle (which B doesn't fit on anymore anyway), they each get their own set of wheels. He's doing really well on it, too, which makes me glad we spent the money when we totally shouldn't have (considering we're paying for two houses right now 😐 ).
I'm also starting to plan a vacation for us, the first we've taken in over three years. Did you know that RV rentals are outrageously expensive? I think we're going to have to get creative (maybe plugging our toaster oven into my Tiguan? and sleeping in E's Forester? I wonder if Camilla would mind the front seat….).
Here are links around the internets that caught my eye this week for your leisurely weekend.
The Anniversary Card. "…my marriage is still young. We are almost at 20 years, not even half the length of her marriage, and the more that we have left to experience together is more than just exciting, it is my everything. The first 20 years of our marriage have been consumed with childrearing and growing roots. The next 20? That is when the sturdy roots push children out into the world, and when our marriage limbs stretch, grow, and bloom. That is also when we can sit under the solid tree of our marriage, the one that now provides shade and respite, and allows us to linger under its security, endlessly loving each other, 'til death us do part. "
This "Anne Of Green Gables" Themed Wedding Is The Sweetest Thing Ever. This is perfect in so many ways. ❤️
Let the World Change You: A Commencement Address Do-Over. "I thought the world needed my answers, but as it turns out, I needed the world's questions. I needed to learn how to doubt well, listen better, and be humbled by how little I know. I needed to discover that evangelicalism is just one table in Christ's banquet hall, the Great Cloud of Witnesses far more sprawling and diverse than I'd ever imagined.
The world, it turns out, is not all weeds. There is evil growing, certainly, and fear and hate and prejudice. But I've found life sprouting out of all sorts of unlikely soil, wheat enough for a lifetime of harvests."
The Minimalist Summer Reading Guide. Modern Mrs. Darcy's summer reading guide is out! For those of you (like me) who have a hard time deciding which ones to read first, this minimalist guide is a great place to start! I've added all of these books to my lubrary hold list. 🙂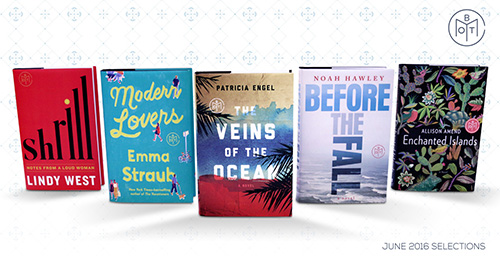 Book of the Month's June selections are out (I think I might pick Enchanted Islands because the cover is so pretty and the main character is from Minnesota 🙂 ) AND they're having a sale right now until May 31st. You can get 50% off a 3-month subscription, bringing the price of each hardcover down to $7.50 per book! Use code SUMMER50 at checkout to get the discount.